This post is part one of a five part series on building a udemy course. I will cover idea validation through to content generation and finally to marketing your course to get engaged students and sales.
To follow this series, subscribe to our newsletter
Are you an expert on a subject?
Maybe it's financial modelling or how to write IP contracts.
Whatever it may be – it's your duty to share this knowledge.
And make money in the process.
Here's how to start building a Udemy course…
What is Udemy?
Udemy.com is a community of instructors, just like you and I, that have created multimedia courses ranging from How to Make $2000 with YouTube – without Filming to How to Train a Puppy for students across the world.
Everything you have wanted to learn – there is probably a course catered to your needs on Udemy.
Why Build a Udemy Course?
So why build a course as your first online piece of content.
Well there are a few reasons:
Make Money
Obviously!
We don't want to be doing this for free. But beware, you WON'T be an overnight success.
It takes time to build a community and trust in your courses.
You have to perfect the course content, market like hell and deliver value people on Udemy want.
Top instructors are able to generate upwards of $10,000 per month with multiple courses.
Build a Community of Students
Many instructors on Udemy have an army of students taking their courses.
Here is a sampling: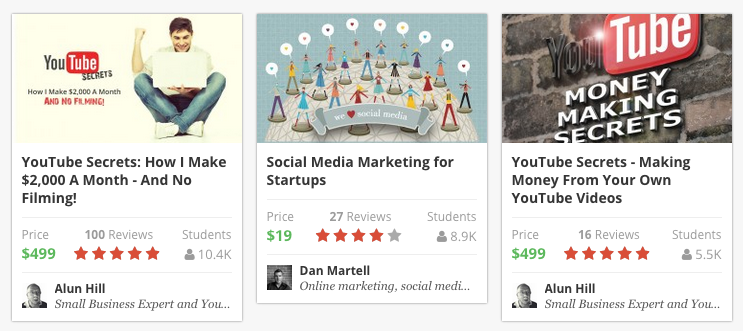 Good courses can attract thousands of students as the ones above show.
BUT it requires the proper marketing, promotions and cross-selling by you.
As a benefit to teaching your course, along with the income that comes along with it, you get a chance to deeply engage with a group of focused students over many hours.
Over time, as they come to trust your teaching, they will become the BEST evangelists for you and your brand. Moreover, these individuals are the ones most likely to buy future products from you.
Identify Yourself as an Expert in the Field
Another reason to run a course is that you stake your claim as an expert in the field.
Building a course takes lots of research and you have to go in-depth into your subject matter.
In the process, you become even MORE knowledgable and can truly own your vertical.
Plus – just think – you can put TEACHER in all of your bios.
Expand Your Reach to Video Media
One of the challenges I have is getting out of my comfort zone related to communicating online.
Videos leave ZERO room for interpretation – its more difficult to hide when your voice and face are on the screen.
I want to come across as more authentic to anyone following me and videos allow me to do that.
Moreover, visual content is easier to absorb for most people and as a result, you are able to get your message across faster.
Content You Can Use in Multiple Formats
Finally, you will need to put in the research to develop enough material for 10-20 lectures for your course. But fear not because you can repurpose this into blog posts, SlideShare presentations, YouTube videos and on and on.
This will make sure the time you invest into this course will be returned 10 fold.
Keep that in mind while you are developing your own content and course.
Now…on to the fun stuff. Lets get started.
---
Finding the Right Idea
Prior to deciding I want to do this course, I started blogging regularly on Medium.com – the great thing about this is you can just write and throw all your ideas down on the web and see which one sticks. This could be anything you observe about life, things your enjoy doing – anything.
So after a while writing, patterns started to emerge.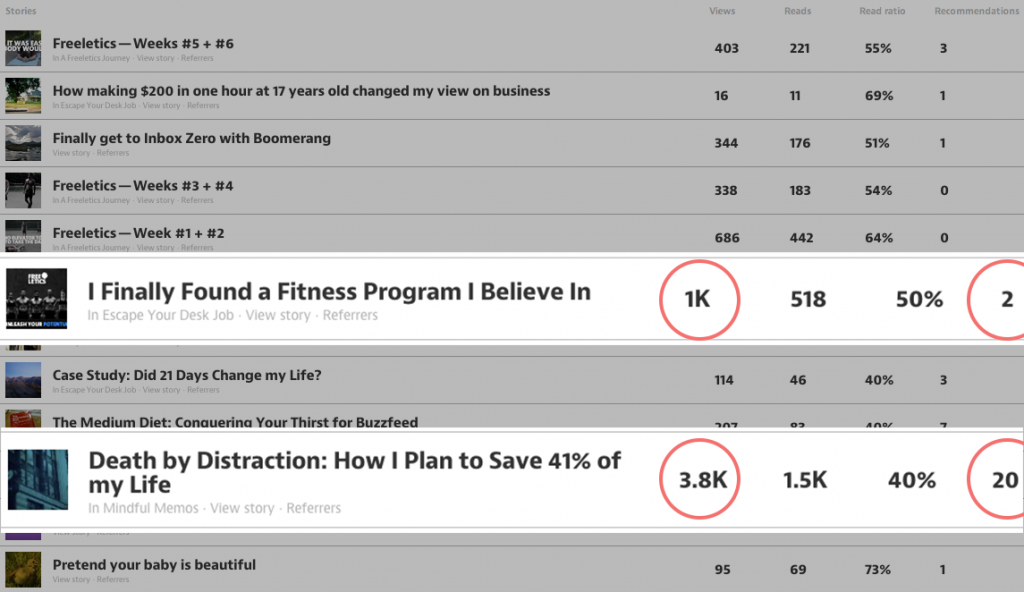 These two posts on Medium stood out as they both had over 1000 views and especially the "Death by Distraction: How I Plan to Save 41% of my Life" which was about building habits and how we don't have any focus these days – had 20 recommendations from people who read it.
I was on to something.
Checking Against Existing Courses
Now that I had a general idea – I had to check the current list of Udemy courses to see if there was an opportunity in the market. So I did a search for "habits" on Udemy.
Here is what showed up: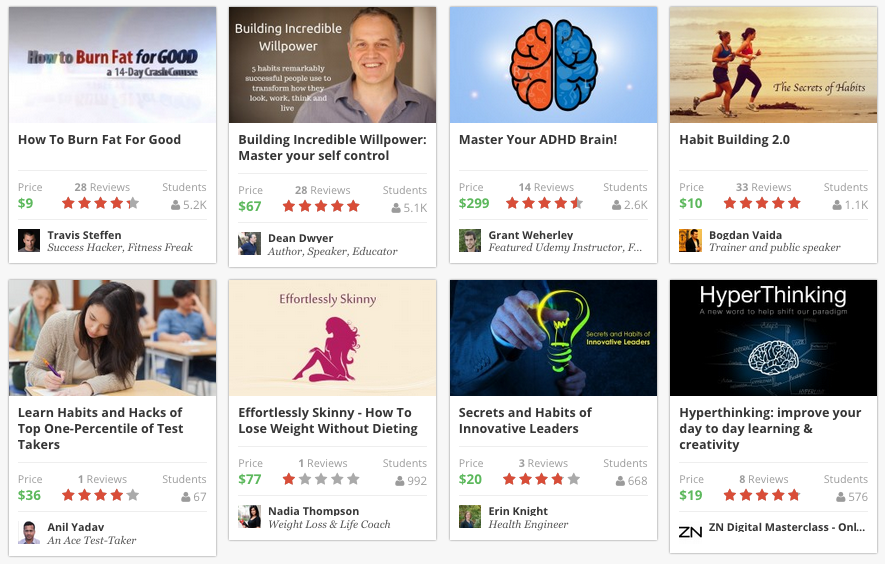 At first glance, there seems to be a ton of competition. But here's why I think this is still a huge opportunity:
1. The Titles aren't Optimized for Sales
What you want with a good title is to make it incredibly benefit rich to the potential student.
Good examples of benefit rich titles are anything Alun Hill does including "How I Make $4,000 A Week From Udemy Courses – And No Filming" or "Amazon FBA – Turn a Few Dollars Into A $4,545 Monthly Income".
None of the titles above scream click on me – and each person that glosses over their listings is a potential sales lost.
2. The Images aren't Optimized for Sales
Again because of the lack of benefit rich copy in the titles, it carries over to the images which do not peak my interest. The only one I like is the "Effortlessly Skinny – How to Lose Weight Without Dieting" – which is not even on my topic and has only review – which is bad.
3. Some Courses have Upwards of 5K students
The market is there for these courses. Despite the poor marketing and lack of benefit rich headlines and copy – there seem to be quite a number of students interested in learning about this topic. This is further validated as I will show below when I post my test video.
4. Other Sources of Validation
My Medium.com post above alone had almost 4000 views and I know from my research that we are a distracted generation that struggle with our attention. People I have talked to offline and on Twitter have expressed their deep painful challenges with managing their focus and attention.
In sum total – I know there are a lot of people with this problem and it will come down to conveying the message correctly.
Posting a Test Video
The next step in the process is to further validate your idea directly with the Udemy community. This involves posting a test video which I like to use as a promo for my course.
It allows me to:
Practice and get feedback on my teaching style
See if there is a market for this course
Connect with instructor to setup future cross-sales
You can do a simple powerpoint presentation with a voice over like I have done in the video below.
I created the powerpoint and then posted it to the Udemy Studio on Facebook and awaited feedback from other instructors. Here's what people had to say: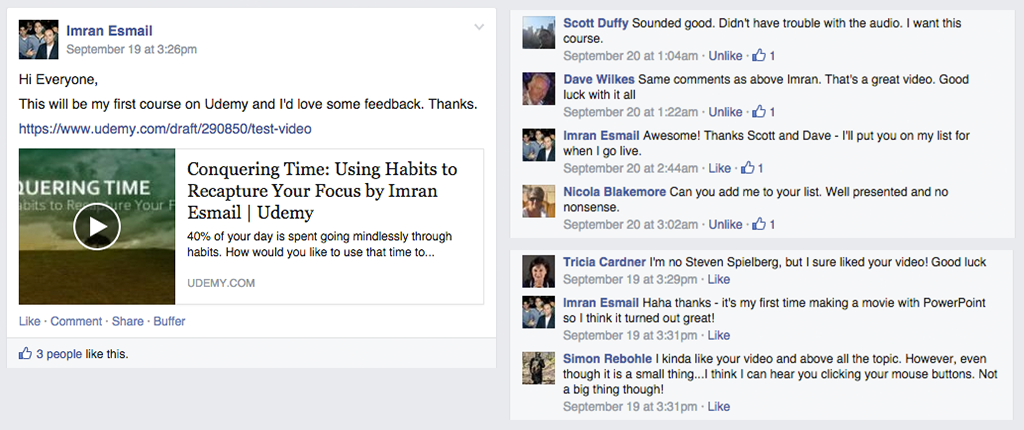 As you can see the comments are very positive with many people interested in taking the course themselves.
I also got some great feedback on what to fix in my video which is invaluable.
Alright – that's enough for this week.
---
Follow Along
If you would like to follow along with this series, I suggest joining my email list below.
I'll email you when the next post is ready and at the end of the series, I'll send along my Udemy Course Swipe File that will summarize all the main learning points here along with the PSDs, copy and everything else you need to create a course from scratch.
[chimpy_form forms="4″]