Did you shell out $7.49 for that last iPhone 6S screen protector you bought? Did you know you could've gotten it for free simply by leaving a review on Amazon?
Not your cup of tea? Then how about any one of these free stuff on Amazon:
It's really easy, let me show you how I do it…
Why is this even happening?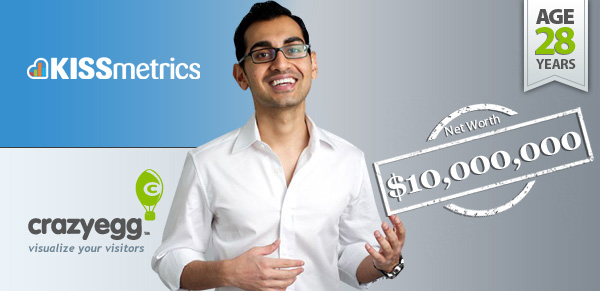 Neil Patel, SEO expert and the founder of QuickSprout, began a 12-month challenge where his goal was to earn $100,000 per month from a newly created blog.
In month 7, he started selling fish oil products and explained how one successful product in a popular product category with 1000+ reviews on Amazon can earn you up to $100,000 per month.
And therein lies the answer.
Amazon reviews are incredibly powerful.
Not only do they signal to potential buyers that your product is worth buying but it probably factors into Amazon's ranking of your product in their search results.
The only problem is that reviews are VERY hard to come by.
In offering their products for free in exchange for a review, sellers are hoping that they can quickly ramp up their review count and sell a lot more product.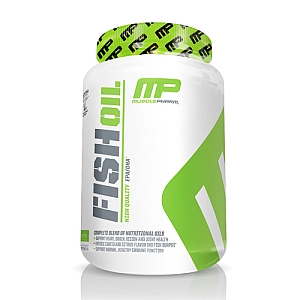 Here's the math…
Let's say we pay for all 1000 reviews on our sales page of fish oil and the cost of each unit delivered is $20. So that would be an investment of $20,000.
Now if what Neil says is true, you could recoup your investment in a month or two depending on how tight your margins are and a few other factors.
Sounds great so far right! But you may be thinking…
Isn't this against Amazon's terms of service?
Not exactly…
Here's the quote from the TOS:
"You may not write reviews for products or services that you have a financial interest in, including reviews for products or services that you or your competitor sell.

Additionally, you may not provide compensation for a review other than a free copy of the product. If you offer a free product, it must be clear that you are soliciting an unbiased review.

The free product must be provided in advance. No refunds are permitted after the review is written"
Moreover, Amazon adds…
"You may not intentionally manipulate your product's rankings, including by offering an excessive number of free or discounted products, in exchange for a review.
The guys over at HonestFew.com, took it a step further and emailed Amazon support to ask them what it deems to be an excessive number of free products.
Their response was that it only applies if you offer multiple units to one reviewer, however, you are allowed to offer 1000 units to 1000 people.
So…long story short, it's not so go buck wild.
How do I take advantage of this?
To me, there are two ways to take advantage of this.
The first and more profitable option is to be the seller and use it to build up our brand.
The second is to be the buyer, you get some cool products in exchange for a simple review
Let's talk about each option…
Option 1: Sell products
By far the more profitable option is to sell your own products.
There is more up-front work but it's not hard to whitelabel your own products and start selling via Fulfillment by Amazon (FBA).

Basically the process works like this:
Find a wholesale supplier by typing in Google "Your Product Name Private Label"
Have your product packaging designed on Fiverr.com
Register your product with Fulfillment by Amazon (FBA)
Order your first batch and ship your product from the wholesaler to Amazon
Start selling
Obviously, there are more steps involved.
If you need a detailed play-by-play then here's 5-star course I came across on Udemy but I have NOT taken it myself and cannot personally vouch for it.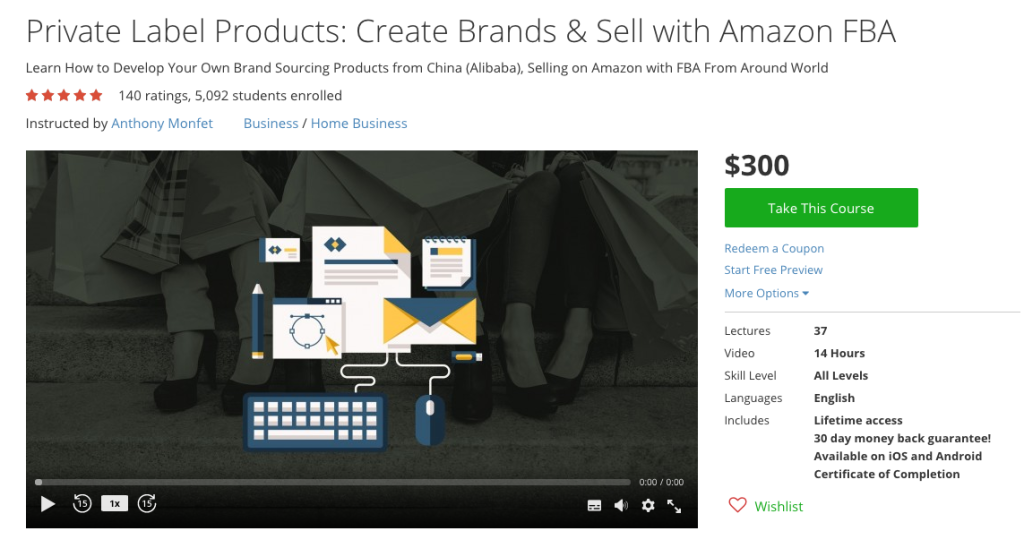 From there you build up reviews using the services I'll list below and in no time you will have a ton of reviews and will be on your way to crushing it on Amazon.
Perhaps, I will try my hand at this in the future and detail it on this blog but for now, I am focused on writing books and building a drop-shipping store.
Option 2: Get free products
If you are just looking to buy something and don't want to pay for it, then simply register for one of the services and do a search for your product.
Let me walk you through an example using Tomoson.
Recently, my humidifier broke and I was tempted to jump onto Amazon and just buy one outright. Then I remembered about this "scam" and decided to give it a try.
Step 1: Signup for an account
Head over to Tomoson.com and register as an influencer.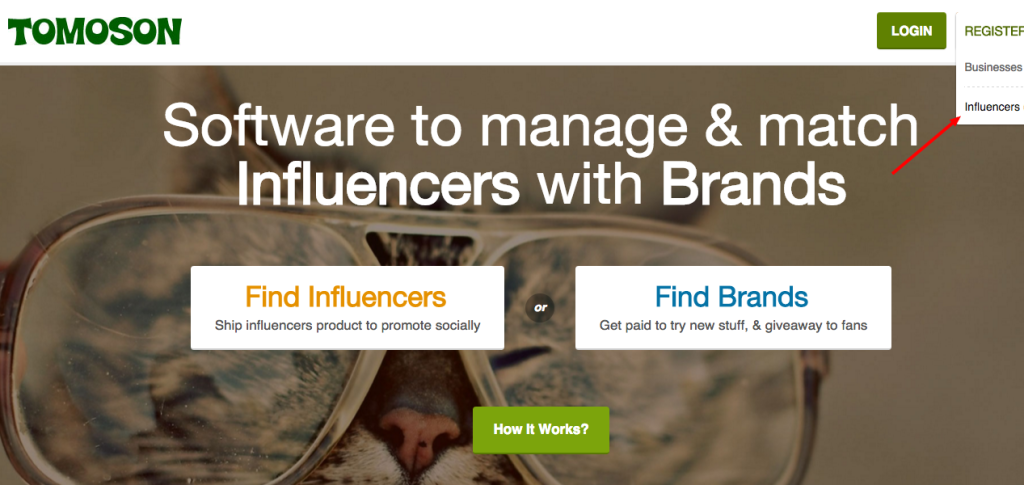 Next, signup with your Facebook account as that is easiest, most hassle free process of registering and follow the instructions to create your account.
Step 2: Link your social accounts
Sometimes sellers want to see you that you are an active blogger or even that you have some influence before saying yes to your application.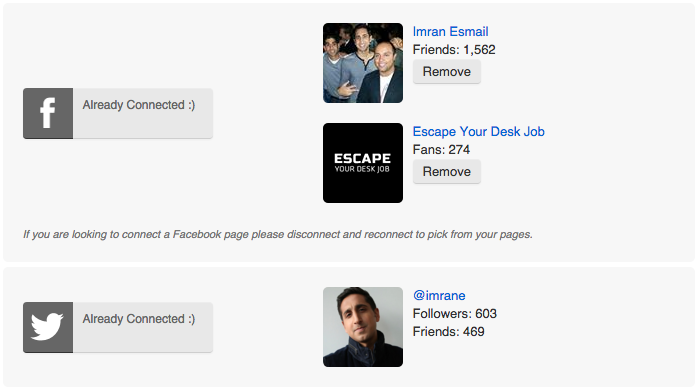 By linking your accounts, you can show the influence you have.
Moreover, to get some products sellers ask that you leave a blog post, make a YouTube video, etc in addition to leaving a review.
This is not the case for all products and other websites simply ask that you leave a review.
Step 3: Search for your product
Now we search for humidifiers and see if we can find one that would work.
This is the one that caught my attention as I didn't have to do much besides leave a review and post about the product on Facebook.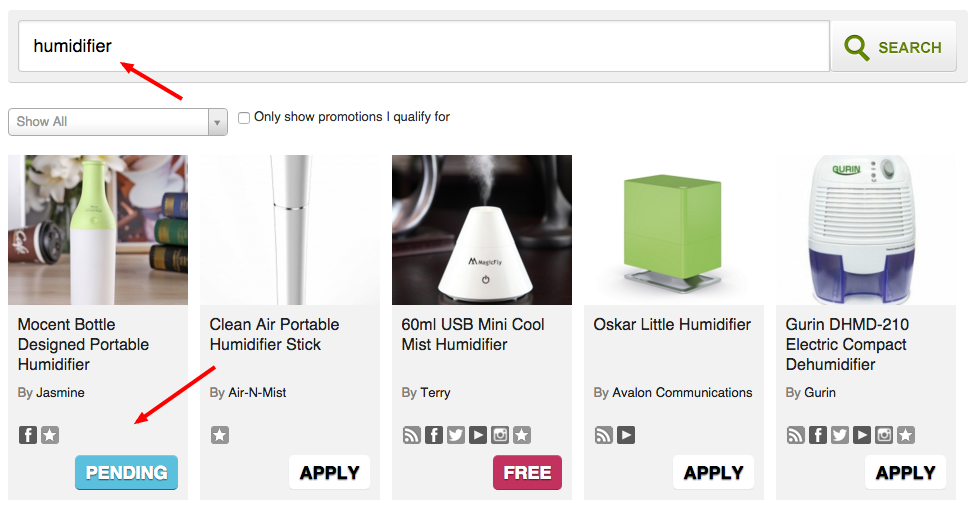 Step 4: Apply
Next, apply to get the product.

Couple things to note. Depending on the product and sellers requirements, you can choose to promise to leave a review, post a video, etc and that will affect your application's acceptance.
Also, keep in mind that a lot of sellers will not ship international so you may need a USA shipping address and will have to find a way to get the product if you are not from the United States.
Step 5: Fulfill your requirements
Finally after you're approved and the product ships, you will have to follow through with your promises. In my case, that meant leaving a review and posting on Facebook and Twitter.
Final Thoughts
Once you get past the hurdle of signing up for the accounts, I can see how it becomes really easy to jump on these websites and find your product.
They literally have almost anything you could want.
However, my real interest, with relation to this blog and making money online, is how you can legally game Amazon reviews to raise your product's (or even book's) ranking.
This will lead to more sales and more profits for you in the long run.
---
Here's a list of all the services you can use:
Tomoson
Amz Review Trader
Brand Backer
Amazing Deals Group
Dollar Deal Reviews
Honest Few
Reviewsio
Elite Deals Club
Deal Go Go Go
Promo Launchzon
---
Post a comment below and let me know what you guys think of this.
Genius or stupid?