This is late coming but I'd like to record my goals for 2016 to:
Keep me on track with my targets
Keep you guys ahead on what I have planned
So below what I'm going to do is run through my current and upcoming projects as well as targets I have for myself to keep this blog moving forward.
I've read a lot on Johnny FD's blog and even on Pat Flynn's blog and they have monthly income reports which are really helpful to see where you have come and are inspiring for you readers.
So starting the end of January 2016 I will be coming out with monthly income reports. I will just include the books, courses and projects under my personal brand and go with that.
Onwards to what I'm working on…
Projects In The Works
Here are the collection of projects I have in the works.
I like to plan in 3 month intervals because I find that past that point you lose track of what you have going on.
SlideShare Domination
The next book in the "Domination Series" – I've partnered with Eugene Cheng to come out with not only a book but a course to go along with it and will be called SlideShare Domination.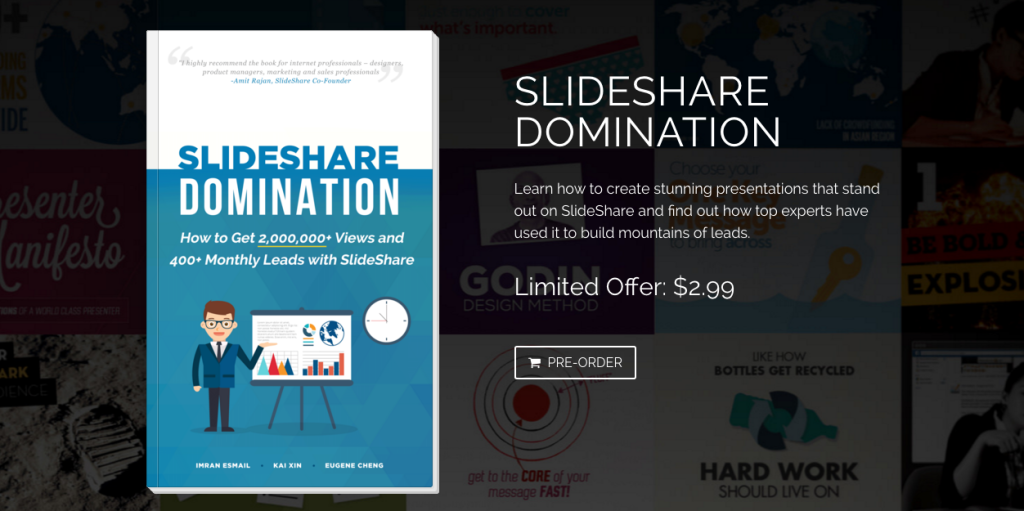 I've already mentioned it but Eugene is a monster on SlideShare with over 2M+ views over the last 3 years.
I simply reached out to him a few months back to see if he was interested in working on something and he said yes. So don't be afraid to get out there and meet new people.
Our strategy is to build up a bunch of views during our book launch and then drive those people to a free virtual summit we are holding with a dozen of the top keynote authors on SlideShare.
Finally, we will sell them hard at the end of the series.
Here's our preliminary launch plan in Trello: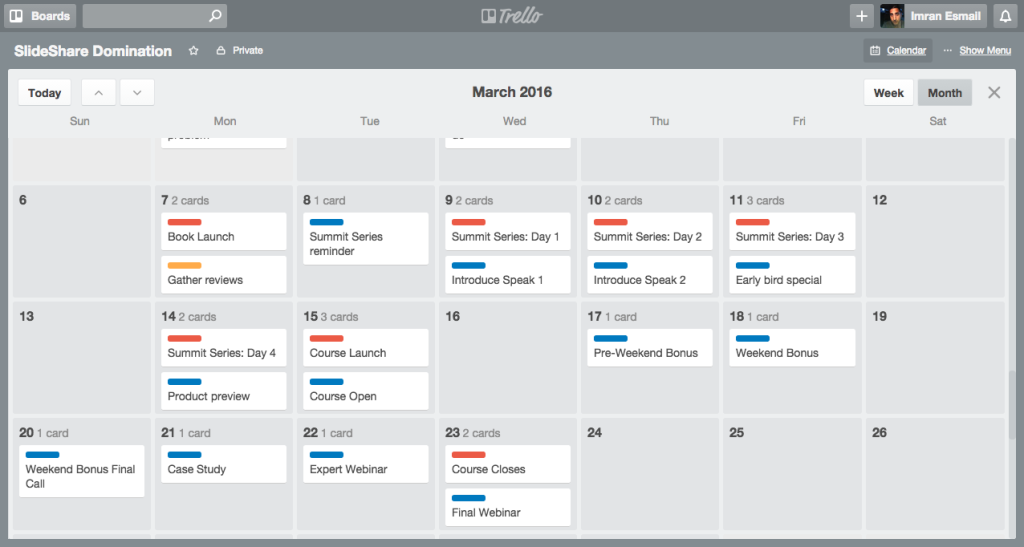 We plan on running webinars, Facebook ads, guest posting, giveaways Thunderclap campaigns to drive email opt-ins and then nurture them until the final launch.
There's a lot going on so it's important to plan everything but this is what I'll be teaching going forward – how to use books to up-sell to a course that actually makes the real money.
Important dates to remember
Book launch date: March 7th
Course launch date: March 15th
Virtual Summit: March 9th to 14th
I highly recommend joining our mailing list for our books because it's going to be awesome and you'll learn an awful lot about the process just by seeing it happen.
LinkedIn Domination
Next, up I'm planning on putting a third book out in the "Domination Series" – this time the topic will be LinkedIn. For this I will be partnering with Sumedh Nene who is an expert at optimizing LinkedIn.
Unfortunately, with such a big launch planned for SlideShare, this book will probably have to be pushed off until at least April when I can give it my full attention.
If I was to take on too many projects, I would end up doing all of them an injustice.
DropShipping Store
Next up, our dropshipping store has been ready to go for WEEKS now but we've run into issue after issue.
First, it was getting our legal agreements together which took forever to come back due to the Christmas holidays when everyone stopped working.
Then we had problems with our suppliers who have given us contracts that frankly are super risky for us to accept the terms. As a result, we have tabled our first drop-ship store idea for a project that is easier to work with.
We may go back to our first idea once we can rehash the contracts and come to a new agreement.
This week we should have some of our new products loaded onto our store and the following week can start marketing them heavily with Amazon and Google.
Click here to follow the drop-shipping journey.
[rad_rapidology_inline optin_id="optin_3″]
Vanity Goals for EYDJ
I'd like to grow EYDJ to a much larger audience and show everyone my path to success step by step. As a result, I'm setting ambitious targets for 2016.
For traffic, I'd like to get up to 100,000 views per month from about 3,000 where I currently sit.
I've chosen this as a rather arbitrary number but believe it's attainable as long as I post regularly. Also, there is no point in setting weak goals.
Go big or go home.
As for email subscribers, I'm currently sitting at 600 subscribers because I deleted about 900 from my list that were inactive. I don't want in actives on my list because:
They hurt my open rate because ESP (Email Service Providers) start looking at my emails as spam
They will likely not buy anything with me anyway
So new year, fresh start.
My goal is to get up to 10,000 email subscribers – similar to what Bryan Harris at VideoFruit did.
New Marketing Stack
I recently put a ton of research into the optimal marketing stack for a book author or someone who is selling information products.
Here's what I'm running on now:
Email: ConvertKit
I moved all my email subscribers over to ConvertKit from Mailchimp. It's simply way more intuitive to use and I find I want to send out more emails rather than fiddling around with design details.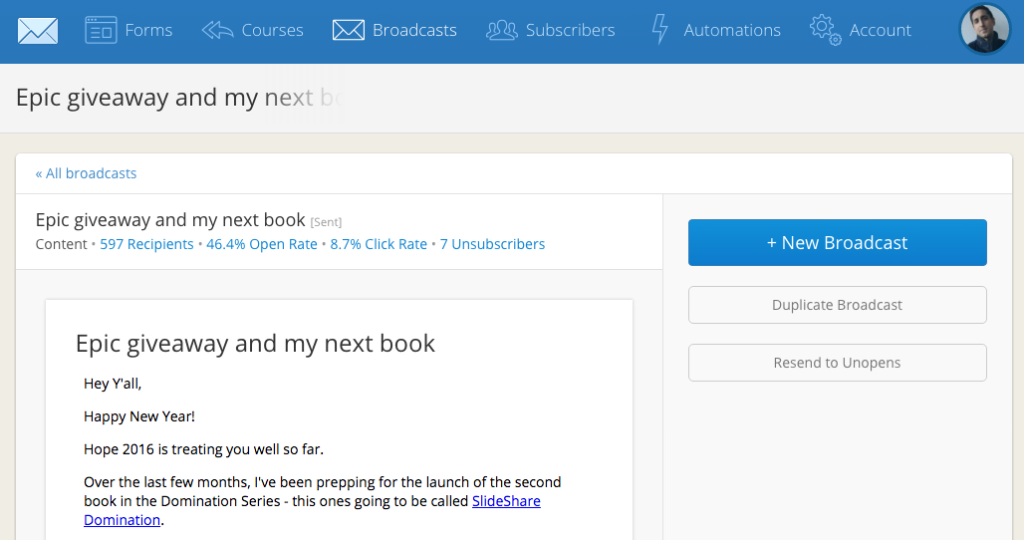 Moreover, it includes all these automation features that you don't get with Mailchimp. If you are serious about building an online business around info-products then use ConvertKit – period.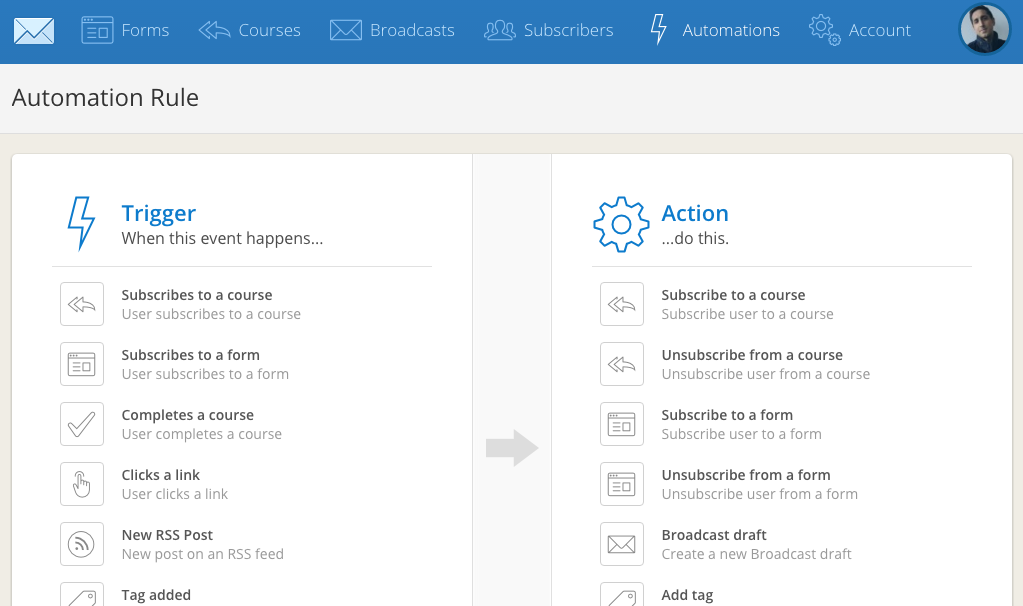 I'll run a post in a few weeks explaining it more in detail.
Opt-Ins: OptinMonster / Rapidology
I like beautiful looking plug-ins so I've gone with OptinMonster for my exit intent pop-ups and Rapidology for on-page opt-ins.

The combination of these two looks great and works with ConvertKit (albeit with some hacking).
If you are starting ANY web project – books, websites, anything – please, please setup an email collection service that will help you build a list.
Most people visit your website and never come back – email helps you keep them returning.
I'll also be posting at least once per week to this blog even if it's a short win I had during the week but just something to keep the dialog going with everyone.
Last thing for the vanity goals, I don't have a specific target for social media following but will actively come up with a strategy, especially for Facebook, and post it perhaps in my next income report.
Income Reports / Profit Goals
Finally, income goals. Let's talk about it.
At the top, I mentioned that that I want to hit $10,000 per month every month from a series of different sources including affiliate marketing, courses, books and drop-shipping stores.
I don't have a split in mind yet but I assume a lot will come from major launches that I have planned while another bunch will come from the two drop-shipping stores I have in mind.
I want to create a system – especially for the drop-shipping stores where I can be as hands off as possible and working with several partners will make this easier for me.
Anyway, if you want to stay on top of my progress this year, join my mailing list.
To a successful 2016!