A few weeks ago on March 23rd, I wrapped up a crazy experiment into launching my first virtual summit and course.
I briefly introduced you guys to what I was doing but today in this post, I want to get into the nitty gritty details and show you everything that went into making it a success.
This has been one of the hardest projects I have worked on but also the most rewarding.
If you're able to avoid the mistakes I made you will have the perfect tool to grow your online business in an even shorter amount of time.
Let's get into the results first:
Results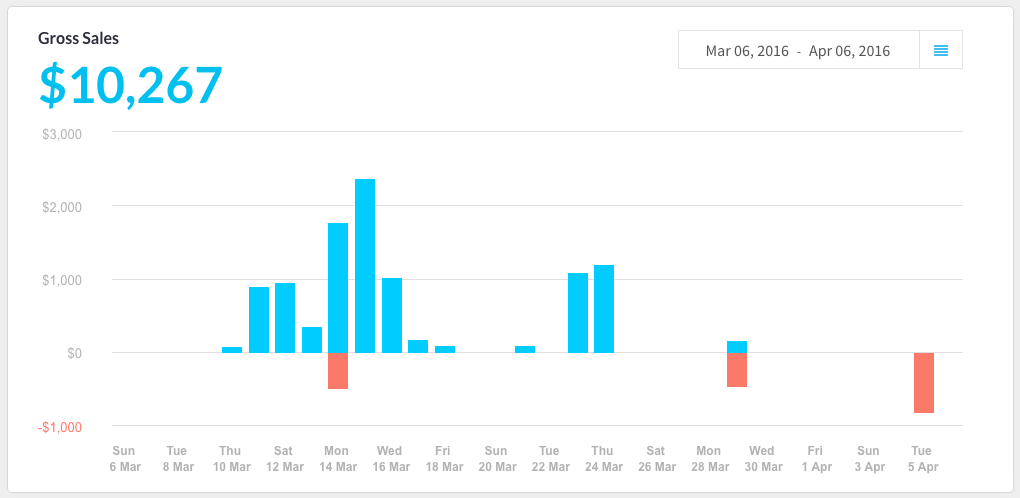 *Note: many people are on payment plans hence the lower total showing
Here are the important metrics etc:
Revenue: $15,375.48
Expenses: $2,925.61
Affiliate Commissions: $1,009.72
Refunds: $1,800
Profit: $9,640.15
My Share: $4,820.08
In CDN: $6,316.96
Here are the less tangible but equally important numbers:
Customers: 38
Sponsors: 18
Blog Posts: 12
Words Written: 20,758
Team Members: 7
I'll go into more detail below but I just want to clarify that if you want to achieve these sorts of results in a short amount of time then you need to be:
Very organized
Employ a team of people
Spend money
And it clearly paid off with a great return on investment.
Alright…let's get into the benefits of a virtual summit and how it all went down.
Benefits of a Virtual Summit
Accountability
The number one thing for me in why this project worked so well is that there is a natural accountability built into running a summit.

You set a date for your event and then book all your speakers and you're required to hit that deadline or you look like a chump.
So if nothing else, early on in your project – take a stand and choose a launch date 3 months out so that you can work around that date.
It'll keep your, the team, affiliates and speakers all focused.
Build Relationships
Next up, the summit allowed me to build some great relationships.
All the speakers are now friends as we worked for many days leading up to the event and got to also spend an hour on a webinar sharing our knowledge.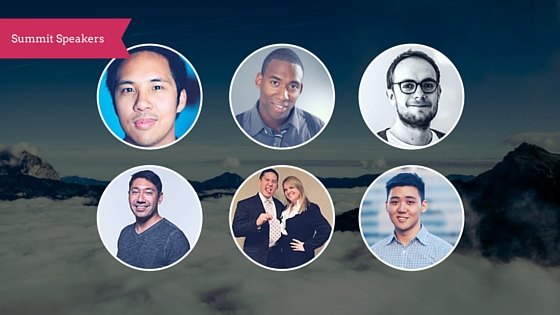 Moreover, I got to connect with CEO's of 18 startups when we asked them to be sponsors and hopefully, I can work with them again in the future.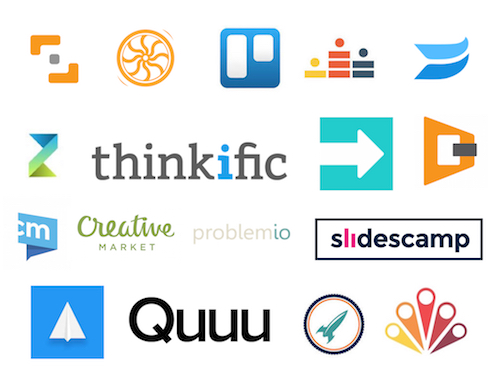 Lastly, in the lead up to the event, we wrote 12 blog posts for some big publications and now I'll be a warm contact if I choose to write for them again.
Build an Email List
On Feb 31st, my email list was sitting around 200 people which I had built up during the launch of Quora Domination.
Today, I sit at 1,631 email subscribers who I have built a great relationship with as I've given out a free summit that they attended and they've seen my face and heard from me many times over the last few weeks.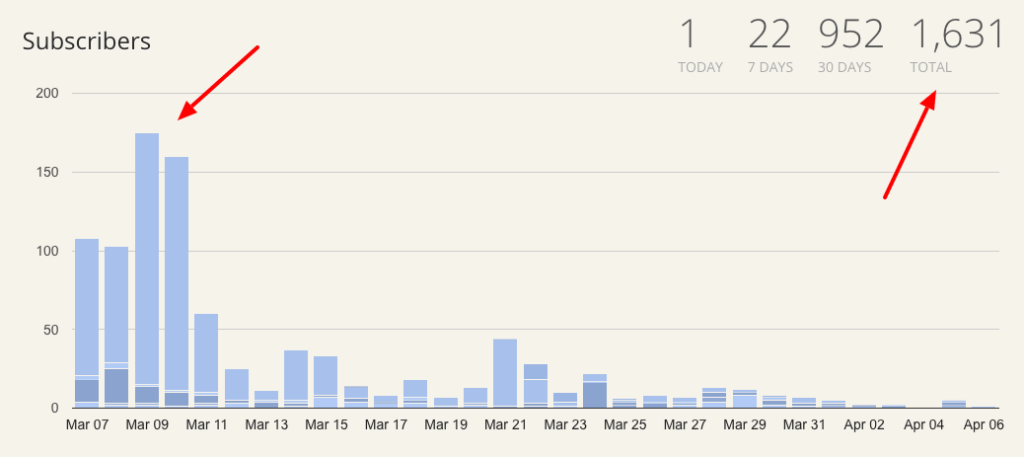 Most of the growth happened just before the summit started with us adding more than 150 subscribers on some of our biggest days.
I don't know of any other way to grow your list this fast in this short amount of time.
The power really comes from leveraging the affiliates and speakers existing audience and funnelling them onto my own list.
I can now sell them on services in the future and this list is now a massive asset for me.
No Experience Required
When I came into this, I have very little experience with presentation design and I was hardly an expert on the topic.
So I just reached out to Eugene on a cold email back in November and had him fill the role of expert while I focused on marketing this launch.
What I want you to consider is that you don't need to spend years sharing your expertise and learning how to be the best, you can leverage other people's experience.
Most people struggle with marketing and if you can put together an event that gets them in front of faces, they will provide that expertise.
And by association, you will come to be seen as an expert yourself.
Earn Money
Finally, the obvious one – you can earn some good money from running a virtual summit.
We did $15,000 in sales but after talking to Navid Moazzez – the expert on virtual summits, I realize that people are doing A LOT better even with their first event.
For instance, Chandler Bolt ran the "Self Publishing Success Summit" and added 30,000+ people to his email list and earned $370,000 from the event.
Another one of Navid's students, Steph Gaudreau ran the "Women's Strength Summit" added close to 20,000 email subscribers.
If you want to find out more about Navid and his journey,
I highly, highly recommend his course
which you can learn about starting by
clicking here
.
---
I plan to run a lot more of these types of events given that it hits all the points – list building, relationship building, earning money – all at the same time!
Let's get into how my program went down:
Step 1: Closing Your Partner
When I got all this underway in October/November of last year, it simply started with a cold email to a few keynote authors on SlideShare.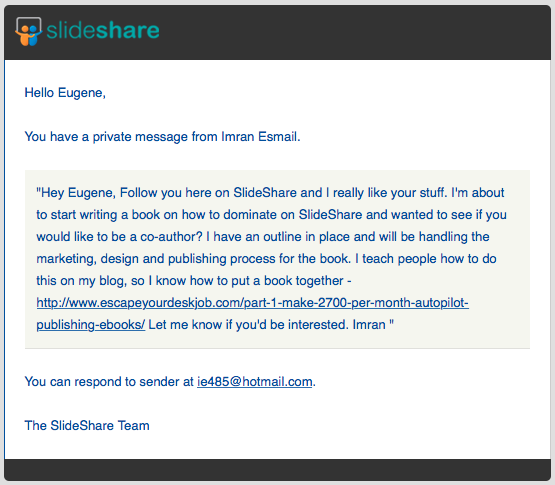 Eugene was one of five that responded and we started collaborating on a book and course.
I quickly realized that we needed more traction and after reading about virtual summits from an article about Navid, I was sold and jumped in.
Lesson: If you don't have the expertise, you need to find a partner and make it worth their time to work with you.
Step 2: Getting The Speakers
I asked Eugene to leverage his existing network and he quickly reached out to a few SlideShare users he had worked with in the past.
Because he knew them well, they eagerly signed up and we actually had to turn people down as the topics ended up overlapping.
At this point, we had our speakers, the dates they were available and we had to start putting together a team to market and promote this event.
Lesson: Get enough speakers to cover you topic but don't go overboard. If you have too much repeating material, attendees get bored and end up dropping off.
Step 3: Creating Your Team
I knew that we wouldn't be able to do this ourselves given the tight timeline with only 2-3 months remaining until the launch date.
As a result, we outsourced a lot of the work to different people including:
Varun: Got us sponsors, affiliates and helped them them all up.
Mikhail: Facebook retargeting ads
Svetlana: Assisted Varun in finding leads
Kate: Assisted in writing guest blog posts
Andrew: Copywriting review for our sales page and emails
We found people on Upwork or through friends, organized everything with Google Drive and communicated over Slack which really helped streamline the process.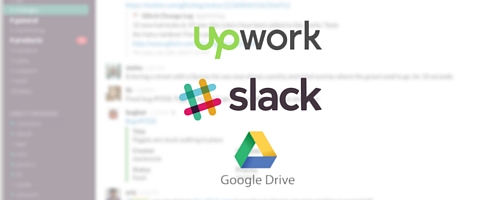 Lesson: You can't do everything yourself so make sure you build a team of full-time employees or in our case contractors who can plug into your system.
Step 4: Finding Affiliates
Part of Varun's job was to actively find affiliates who could promote the summit and course and he worked with Svetlana to build a list of people with existing email lists.
Our buyers would be professional speakers and business consultants so we checked lists like the National Speakers Board for potential candidates.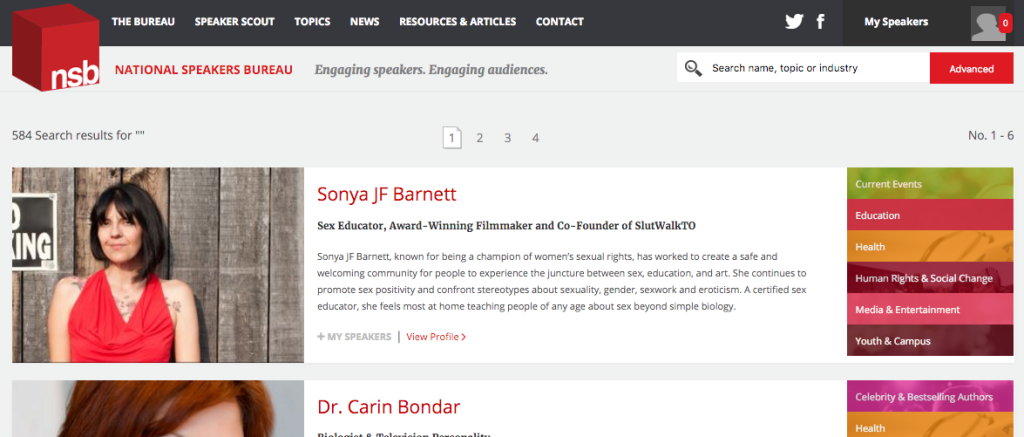 We then sent them the following email to see if they would be interested in being partners:
Hi XYZ,
Hope all is well. I'm the business development leader at Domination Series (www.dominationseries.com).
Just ran across your blog post on WPCurve – great advice on presentations!
—
Anyway, I am reaching out because I noticed you are an expert in the presentation niche – I wanted to know if you'd be interested in a JV opportunity.
Imran and Eugene (cc'd) and I are launching a course in March about designing effective presentations (www.slidesthatsell.co) along with a summit with four of the top presenters on SlideShare (www.slidesthatsell.co/summit).
In the lead up to it, we want to run some webinars with new audiences and perhaps we can work on something with your team.
Let me know if you're interested – I'd love to talk details.
Best,
Varun

From there we were able to nail down about 12 affiliates who were interested in working with us and help promote the event to their audience.
We used SamCart to track affiliate sales and set each on up with pre-written emails they could send to their lists at the appropriate times.
Here's an image of our affiliate resources page: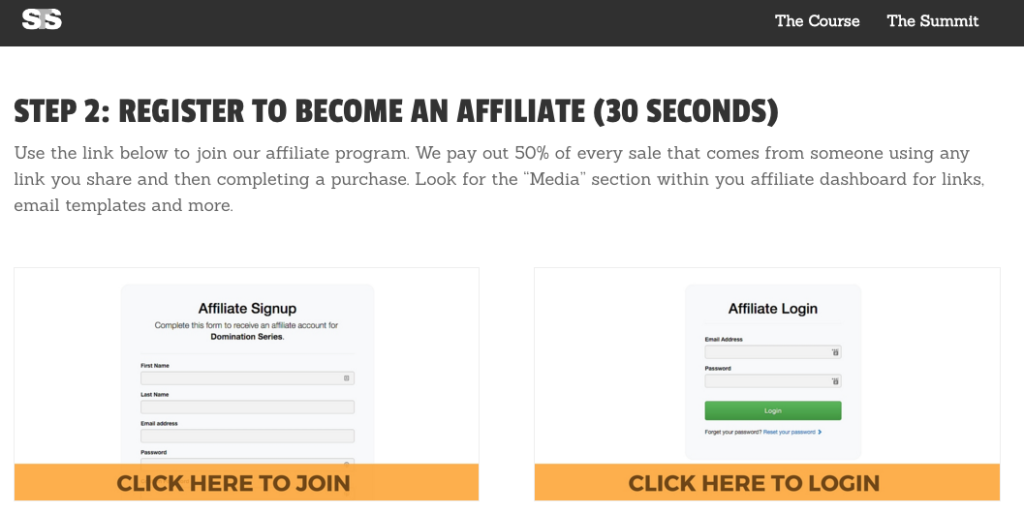 Finally, once everyone was setup, we had to send out reminder emails for our affiliates to take action on each important date of our launch.
Lesson:
Use
ContentMarketer.io
to send emails to potential affiliates and also to send reminders because people often need to hear from you twice before taking action.
Step 5: Building an Audience
Now it was time to build an audience and even though we knew we'd be getting people from both speakers and affiliates, I didn't want to leave it to chance.
Hence our main focus was guest posting on big blogs to drum up interest for the summit as well as to spread our results and story about SlideShare.

We ended up writing 12 different blog posts and over 20,000 words. Looking back this was a tremendous undertaking and may have been easier for us to simply do podcasts.
The problem: Many big blogs simply don't allow you to include any links off their website to your stuff.
The links we did sneak in directed readers to the summit page or to a ready-made template.
In the future, we will probably look to bring on more speakers with an existing audience that we can leverage into attendees for our event.
Lesson:
Guest posts do work as we received a tremendous amount of opt-ins from posts with
Teachable
and
Creative Market
– however,
overall they simply weren't that effective
.
Step 6: Going Live
So finally, after all that work, the day to go live came on March 9th and we started with an interview with Emiland De Cubber.
We had an amazing turnout with 150 people showing up over the course of the interview which was hosted on Crowdcast.io.
I continued to conduct interviews send people email invites once in the morning to announce the speakers for the day like in the example below:
Hey XYZ,
And so it begins!
Are. You.
READY!?
For the past few months, we've been working hard on this with our heads down creating content, signing speakers + partners and doing everything else in between.
But I think Eugene and I forgot the real reason we started all this in the first place and I think it comes back to us wanting to teach everyone the real power of a great presentation (awwww).
All the speakers you'll be hearing from over the next 4 days have achieved outsized returns with SlideShare and I hope you brought your notepad because it's going to be coming at you hot and heavy.
Anyway, enough with the hype…
First up…Emiland De Cubber
So Emiland happened to be one the first guys that Eugene got in touch with when he began his SlideShare journey and for good reason.
His "Dear NSA" deck was featured in Fast Company, TechCrunch, HuffPo and has gotten over 1.2M views since then. Today, you'll hear him explain his exact strategy.
Emiland also landed his first full-time job thanks to SlideShare and his story which you'll hear at 12pm EST will take you all the way back from his first presentation all the way until today.
I've had a sneak peek and it's quite the journey
Here's the link – https://www.crowdcast.io/e/slidesummit2016/1
Next up…Barry Feldman
Barry is a copywriting and digital marketing guru and was named a top 25 social media authority by LinkedIn (damn, I didn't even know they had that).
He's truly a prolific writer as you've probably seen him on every blog from Social Media Examiner to Unbounce and of course on SlideShare's blog as well.
I actually asked Barry last minute to speak for us because I know how important copy is to getting people to take action.
On SlideShare and other visual mediums, it's even MORE of a challenge because you simply have less words to work with!
So definitely catch this talk at 4pm EST – its going to be awesome.
Here's the link – https://www.crowdcast.io/e/slidesummit2016/6
So there you have it – Day 1.
See you later today,
Imran

And then emails 5 minutes before each speaker was set to get started:
Hey XYZ,
Jumping on here to let you know we start with Emiland in just 5 minutes!
If you can make it that would be awesome and we'll run a special deal for those that attend live. Here's the link — https://www.crowdcast.io/e/slidesummit2016/1
I don't want to spam you if you're busy so if you no longer want to receive 5 minute reminders before each session just click this link right below
Opt Me Out of Five Minute Reminders
See you soon,
– Imran

Here's what I learnt:
Send Lots of Emails
Most people fear emailing their list because people will unsubscribe. Right?
This is a huge mistake as the people that stay on your list are committed to your message and need to hear from you regularly.
Anyone that leaves was NEVER going to buy from you so good riddance.
I probably sent over 20 emails during the course of the launch and my opt-out rate was never more than 1%.
People Still Forget
Even though I sent an email in the morning, I knew people would get caught up in their days and would forget about the start times.
So I could send a reminder email just before the event started and would get a rush of new listeners who showed up.
I also offered anyone on my list who would be annoyed with the 5 minute reminders a way to opt-out of them by simply clicking a link.
—
Then the next day we got hit with two crises.
First, one of our speaker's connection broke off midway through his call.
We weren't able to get him back and all the attendees left disappointed.
Next, there was a massive flood in Louisiana and our next speaker had no internet access for his Friday call.
FML but thankfully Kenny was ok.
Lesson: Record your summit webinars in advance and you can avoid these hiccups.
All in all, we had over 600 people attend live and a ton of positive comments from everyone.
We offered a 20% discount to only people that watched the webinars. This was to encourage people to buy right away and get the discount.
As many points of urgency you can created the more buyers you'll get.
We had 3 buyers during the actual webinars and another 10 in our pre-launch phase.
Step 7: Course Launch
Finally, our course actually dropped on March 15th, the day after the summit ended. To get people super excited we offered a 15% discount just on launch day.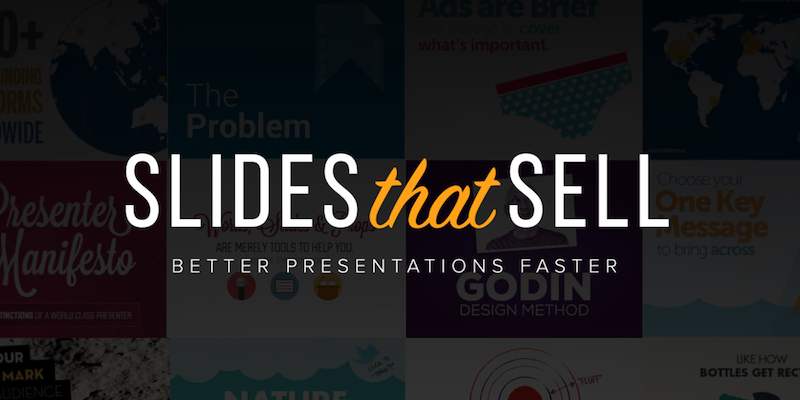 Our sales page ended up being almost 5000 words long with a ton of images.
We even had a professional copywriter look through it – thanks Andrew.
Here's the launch email:
Hey [FIRST NAME GOES HERE],
Over the past 4 days, you've learnt about the power of presentations to drastically alter the trajectory of your life.
For Cory & Yancey, it was their "Smoke – The Convenient Truth" deck that was named World's Best Presentation in 2010 and launched their 6-figure presentation design business.
For Emiland, it was his "Dear NSA" deck that was viewed over 1.2 million times and led to companies like Google and Coca-cola begging to work with him.
Wouldn't you like to have the same power?
Truth is, we could keep throwing free material your way until you're even more confused and excited but instead, today's the day for you to take action.
Eugene and I are officially opening our flagship course, Slides That Sell, for one week only.
Here's the Link: Slides That Sell – The Complete Presentation Design Course
This is the culmination of 8 years of hard work. We've distilled everything that Eugene has learned over those years working with companies like Nike and Panasonic, and creating presentations that have been viewed hundreds of thousands of times around the world on Slideshare.
We've taken all of that knowledge and spent 6 months creating, packaging and refining it into a truly world class course on creating incredible presentations.
Here's what it includes:
– 8 core modules taught by Eugene himself which cover everything from how to create a stunning presentation (in under 2 hours) to how to optimize SlideShare for massive lead generation ($499 value)
– Lifetime access to all the expert video recordings from our SlideShare summit ($199 value)
20 professionally designed, plug & play presentation templates for SlideShare or your next speaking event ($250 value)
– Design cheat sheets, checklists and other shortcuts to help you build amazing slides in half the time ($199 value)
– Email scripts to help with outreach, outsourcing guides to get help with your next presentation and landing page swipe files and formulas ($499 value)
– Bonus offers with partners like Wistia, PageWiz, Creative Market, Content Marketer and many, many more (>$1500 value)
Every single speaker that you'll hear from inside the course – including Eugene himself – charges a MINIMUM of $2500 for ONE presentation.
You are getting all of that knowledge and expertise at a FRACTION of the price.
And to give you some extra incentive to take action now, for the next 19 hours until Midnight PST, you can get the course at a 15% discount if you buy in full today.
Just use the code: "STS-LAUNCH" at checkout, and you'll get 15% off the total price.
So if you're tired of staring blankly at your PowerPoint window, not knowing what to do, then we have templates you can use. If all you seem to create is ugly presentations — even if you spend hours and hours working on it — then we have cheat sheets you can use.
And if you think you need to be an expert designer or need a lot of time to devote to creating presentations, then we'll show you the exact formula Eugene uses to create stunning presentations in under 2 hours.
So again – here's the link to the course:
Slides That Sell – The Complete Presentation Design Course
We will never again offer Slides That Sell at this price.
So head there now and check it out.
See you inside,
Imran

Another 10 sales rolled in before midnight.
The Challenge
Next up, we didn't want the enthusiasm to wane as we had a week to go before cart closed.
So we launched a challenge where Eugene and I would put together a presentation using all the techniques we taught in the course.
We'd then submit it to SlideShare and see if we could get featured.
Well guess what…we got featured on the homepage the night before our course closed.
Yes!
So that gave us more proof that our techniques worked and you can be sure I mentioned that in the final email:
Hey XYZ,
We are officially closing the Slides That Sell Course at midnight tonight Pacific Standard Time. It has been a great few weeks and I hope you guys have enjoyed the summit along with all the bonuses on offer.
Over the weekend, Eugene wanted to demonstrate the power of what we teach inside the course so he gave himself 2 hours to complete an entire presentation from scratch.
That presentation ended up making it on the homepage of SlideShare and has received over 6,600 views in only 1 day! It should still be there right now!
That's the power of SlideShare and we are confident with the resources inside this course you'll be able to complete presentations that look amazing in 2 hours flat.
Here's what one of our students, Zaheen had to say:
"I'm blown away at the amount of resources and support Eugene and his team have provided for the STS course! As a speaker and business owner, SlideShare is a great tool to brand and promote my businesses, and I can see it being a phenomenal lead generation tool already. Thank you for making this course available!"
Here's the link again – Slides That Sell ($3000 Value)
To remind you, here's what's included:
– 8 core modules taught by Eugene himself which covers everything from how to create a stunning presentation in under 2 hours to how to optimize SlideShare for massive lead generation ($499 value)
– 20 professionally designed, plug & play presentation templates for SlideShare or your next speaking event ($250 value)
– Design cheatsheets, checklists and other shortcuts to help you build amazing slides in half the time ($199 value)
– Email scripts to help with outreach, outsourcing guides to get help with your next presentation and landing page swipe files and formulas ($499 value)
– Bonus offers with partners like Wistia, PageWiz, Creative Market, Content Marketer and many, many more (>$1500 value)
If you are a professional or part-time speaker or your business hinges on delivering great presentations that make an impact, then you need this course.
If you are an internet entrepreneur and struggle to get traffic and leads for your business, this course will give you everything you need to do just that.
In this course, we've distilled over 8 years of knowledge Eugene has developed in making paid presentations for some of the biggest Fortune 500 companies in the world.
And we're giving a 30-day iron-clad money back guarantee, so even if you don't like the course you can return it and get a full refund – no questions asked.
So grab it before midnight and we'll see you inside!
Slides That Sell – The Complete Presentation Design Course
– Imran

So there you go, a little behind the scenes of this course and summit launch.
There's obviously much more to it but this is a good overall gist into what it takes.
Some Things to Note
Cheap Customers = High Returns
My cheapest customers were those who either paid 20% off the basic package which came out to $159 or chose to take instalment plans.
Coincidently, these people were also the ones who asked for a refund the most.
Here's the lesson: Your best customers that are most committed to the process of completing your course and getting the most out of it will pay the highest price.
Bottom feeders are typically looking for quick fixes to their problems and are the same individuals that will give you the most grief.
Don't be afraid to charge more for your work.
Have a Great Story
Even though guest posts weren't as effective as I had hoped, it did give us credibility. And what sold the blogs to let us write for them was that we had an awesome story to tell.
Eugene had gotten over 2M views on his 16 presentations and was getting 400 opt-ins per month from one. We sold this story hard and it opened a lot of doors.
Make sure you have a story.
Look Professional
Next up, we spent a lot of time making sure the look and feel of everything was professional. From the actual summit page through to the emails we sent out.
People need to trust that your putting time into the event.
A cheap and quickly thrown together website will scare people from joining your list and eventually buying your follow-on products or services.
Only 38 People Actually Bought
Finally, you don't need a boatload of buyers to make the project a success. We only had 38 people buy our high ticket course and still made a healthy profit.
That's the power of selling big ticket items vs. cheap books and Udemy courses which encourage lower quality content. I have been guilty of this in the past but going forward I I am going to use higher pricing for my products.
Final Thoughts
Honestly, virtual summits are the most powerful way to start a brand new business online.
As I've mentioned they hit all the goals I had including:
List building (added 1400 people)
Relationship building (with speakers + sponsors)
Revenue generation ($15,375)
Beyond that, there was a natural form of accountability to make sure I hit that timeline and had everything ready for March 9th.
I highly encourage you guys to try it yourself even if you have zero experience in an industry or even if you think your topic is too niche.
To get started, check out this report from Navid – here
Let me know what you think of this business model in the comments.