You may be sitting on a gold-mine and you don't even know it.
That's what Evan Kimbrell came to realize after listing his place on AirBnb several years ago. Now, using the income from renting his place out in San Francisco he has not only gained freedom from a typical 9-5 job but has also been able to have some amazing adventures around the world.
Read on below for Evan's complete AirBnb story. See exactly how he started out until where he is today and how you can do the same.
At the end, Evan has a gift for you, so make sure you read on through.
Enjoy!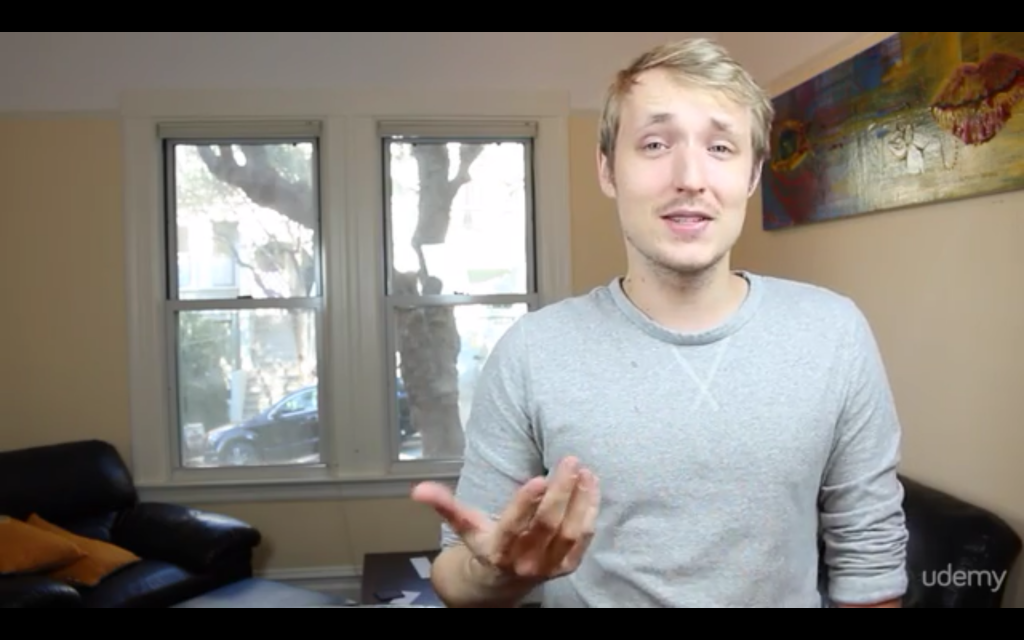 Hey, I'm Evan. I'm currently an Airbnb host and the creator of the course "Hacking Airbnb". Currently, I'm the #1 host in San Francisco (1 out of 5000+ listings) and over 3300 students have now taken my course.
Imran asked me to share with you my story and to hopefully inspire some of you reading to follow a similar path on the way to financial freedom.
Interested in learning about Airbnb and wondering if it can work for you? Read on.
People often ask me what I'm doing traveling around the world. The assumption is that I must be a developer, or someone who works overnight from "home". Without so much as a word, people automatically categorize me as a "digital nomad".
This is a buzzword I have grown to dislike.
Everyone who travels must be working on something, right? Well in my case, not really. I'm a host on Airbnb and over the last 2 years I've become quite successful at it.
As I'm writing this right now, my Airbnb in San Francisco is set to pay me $9,556 this month.
My total expenses for the same period, liberally, barely break $3500.
That's a pretty average monthly haul for me. On my best month, I brought in a little north of $11,000 and my worst month traveling around $6000.
So, really, I get paid to simply NOT be in my apartment. That's my job, so to speak.
When I tell people that, I always receive a response in the form of silence. After they process it, usually one person chimes in "I've heard of a couple people who are in a similar situation".
My situation actually isn't even that uncommon. There are people making great passive salaries in almost every city imaginable.
(For those of you that want to see proof of my earnings, preview Lectures 7 & 8 in my course for free)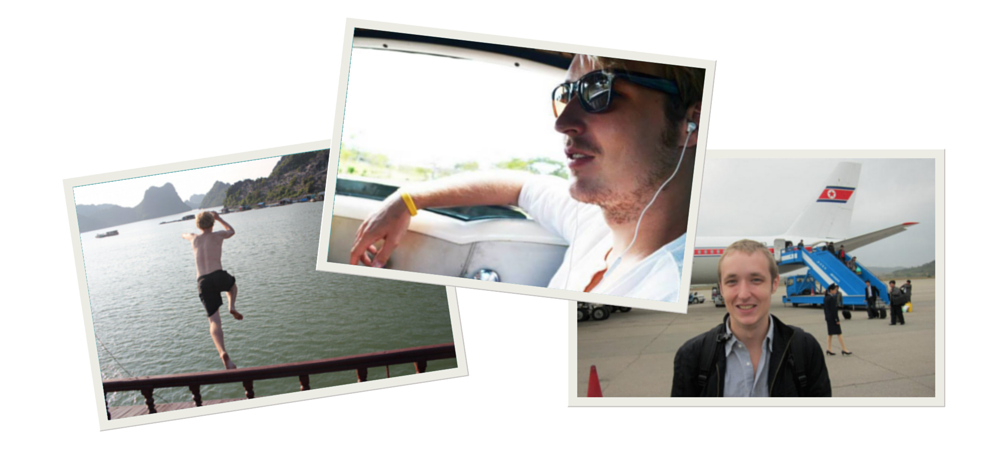 So, that's where I am now. I do work on projects, but I have the choice to work where and whenever I feel like (granted as long as I'm not in my apartment).
If I want to stay in San Francisco, which I do on occasion, I can rent a private room and still pull in around $4500 – $6000.
I've spent the last year alternating between my apartment in San Francisco, impromptu scuba diving trips in Bali, festival hopping in China, and of course spending time with my family back home.
But of course, it wasn't always this way.
The Genesis Story
About 2.5 years, I moved to San Francisco. At the time, I was running a web studio and my primary income was all project based web development. Being self-employed is and was both a blessing and a curse.
Having no boss meant you could wake up whenever you wanted. It meant you could have a weekday any day you wanted. But it also meant that not only did you have to create every project and every sale from scratch, but that your monthly income could swing wildly and unpredictably.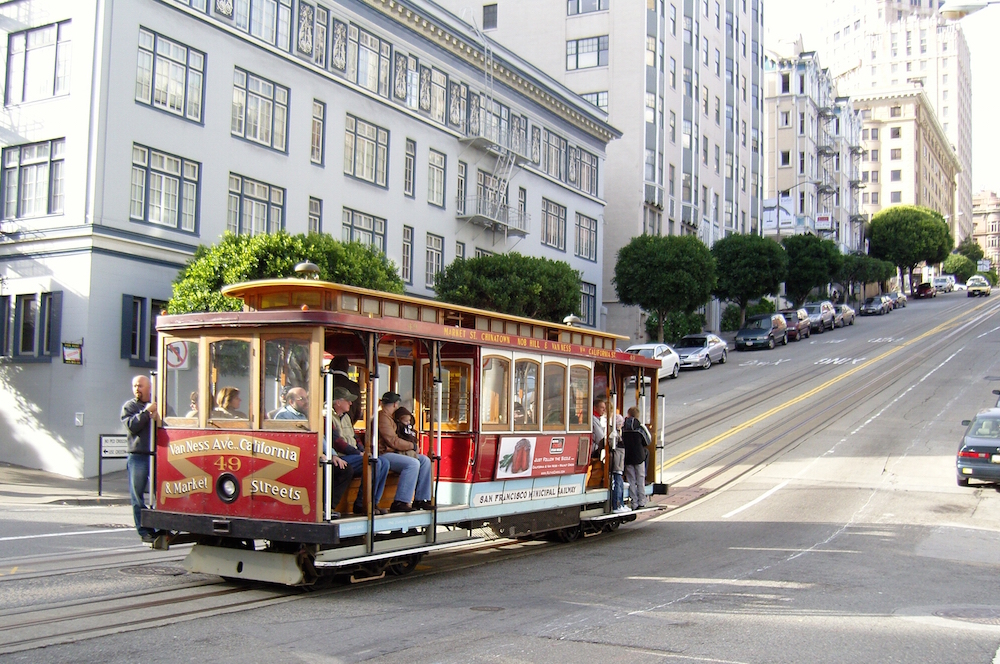 Why San Francisco?
Well, if you're not familiar San Francisco is effectively the largest HUB for all digital and technological innovation in the United States. I've always been involved in startups; I was once a venture backed founder and then later an associate for a VC firm.
Like so many "startup guys" I gravitated towards the Bay Area. The city was a natural fit but it also had one major drawback.
San Francisco has the most expensive rent in the country.
How much rent are we talking, exactly? Well, As of May 2015, the average 1 bedroom apartment rents for $3100 a month. The average studio costs around $2400 / month.
Yes, you read that right.
$3100… for a one… bedroom….
Luckily, this was 2 years ago when the rents were much more reasonable. My 2 bedroom was only $3000 / month (what a steal, right?). Of course, it was only reasonable because I chose to live in an area that makes locals groan when you mention it.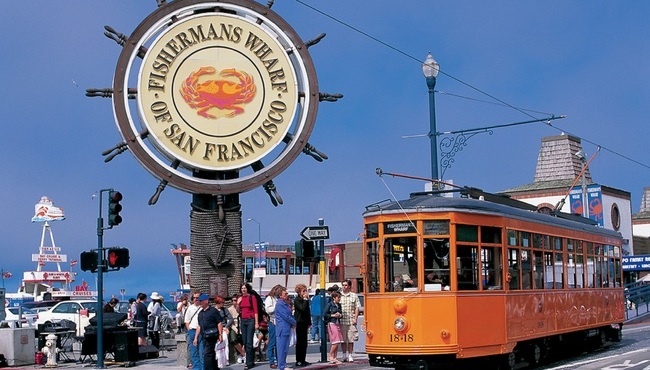 The area is called Fisherman's Wharf and at times it feels more touristy and manufactured than Disney land itself.
Just like any person who immediately regrets the sports car they just impulsively bought, I too had a miniature crisis the day after I signed the lease of my apartment.
How was I supposed to pay this much money every single month? What if I had a bad month? And trust me, there are baaad months when you're self-employed.
Anyone who runs their own show knows what I'm talking about.
Like a backpack, for two months I carried the burden of knowing that my housing could literally make or break my bank account. Not a fun way to live.
Introducing AirBnb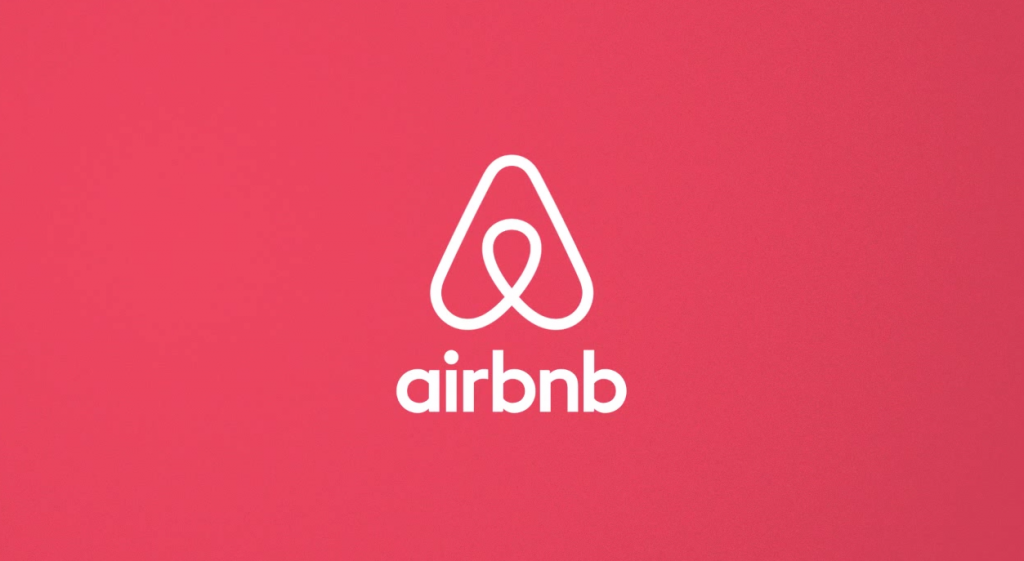 I've mentioned this story to quite a few people, and mostly because they, like you, were interested in how I got to where I am now. And its actually BECAUSE I like to tell my story about my rent situation that I even found Airbnb in the first place.
Someone once mentioned to me that I should "throw my living room up on Airbnb" followed by "maybe you can make an extra couple hundred bucks a month".
I thought about it but didn't really take the suggestion seriously.
A couple hundred bucks just felt like a drop in the bucket. I needed bigger solutions
It actually wasn't until I was trying to schedule a time for my parents to come visit me in San Francisco that I revisited that comment from that anonymous sage. After finding out that hotels in my area cost between $300 – 500 a night, we started looking on AirBnb instead.
I've personally traveled on Airbnb as a guest and in general, have had very positive things to say about it. Usually the normal course of action after you cant find a hotel in any city nowadays is to check out Airbnb.
We checked Airbnb and found that while the prices were considerably better, there were still none in my area that worked.
The opportunity still hadn't donned on me until I was walking back to my apartment that same day. I passed a motel that shares my intersection and just out of curiosity I went in and asked how much a night was.
"$249.99 but we're completely full" the surly woman at the front barked at me.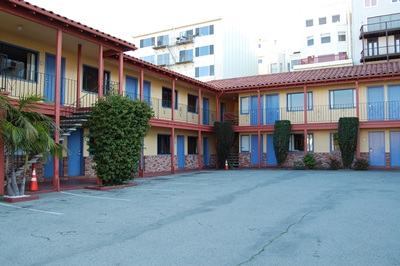 It was at that point that it clicked. If people are willing to pay $250 for a dumpy motel, surely they could pay $100 to stay at my apartment. $100 a day was after all, what I needed to cover my rent.
Not only did I make money, but it didn't even feel like work
Losing my AirBnB Virginity
I took about a week to finally get my listing up. It could have taken much less time, but honestly I'm a little detail obsessed. I spent days piling over other listings, studying page language, trying to decode the magical Airbnb search algorithm.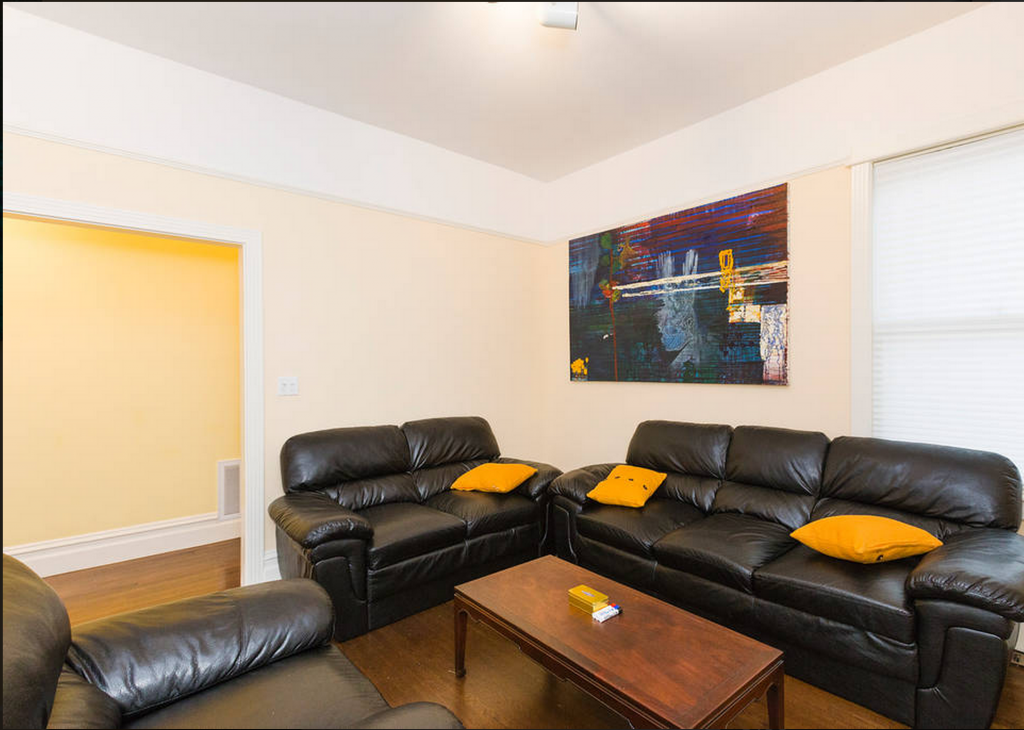 As an example of my obsessiveness, I could have taken photos on my phone but as a perfectionist (or at least a "I hate low product quality" –ist) I couldn't do that.
I went to Costco and I bought the fanciest DSLR camera they had. I borrowed a flash attachment bulb that goes onto top of the DSLR and creates a flash effect with your photos.
I knew from previous experience that Costco allows you to return any electronics within 30 days for any reason. I also knew that flash attachments ($30 on Amazon) made rooms look unnaturally bright.
After I put together a game plan and spent an entire weekend roaming around in E-Van picking up and haggling for Craiglist furniture, I published my listing.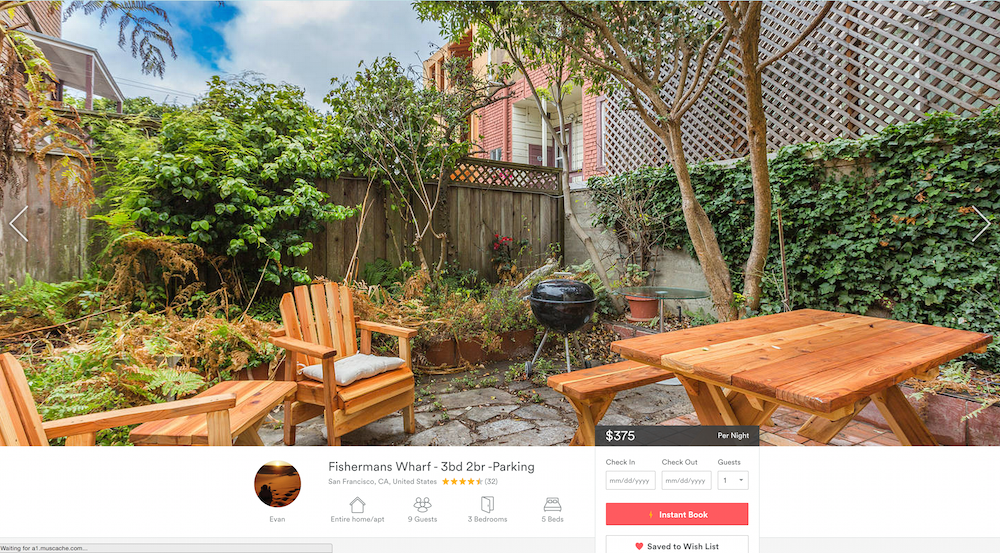 I published it around 2 pm, and I set my living room price to $100.
My thought process was "well, I hope I didn't just waste a week of time".
At around 6 pm, I got a text message saying I had a guest inquiry. For that night.
I scrambled, I sweated, and ultimately I pulled everything together for my first guest. The experience was all around pretty fantastic. The guest was a great guy just looking for a crash pad for the night.
Check in went fine (despite having no idea what I was doing) and after a long conversation about the city, the only thing I heard from the guest was when he was checking out saying thank you.
I was hooked
Not only did I make money, but it didn't even feel like work. I got to talk to someone who was interesting and talk about the city that I really starting to enjoy so much. And all I did is let them use my spare bedroom.
The Journey
The month I first started was completely scattershot as I had inquiries, and then had inquiries disappear. I found out all the amenities I was lacking and all the amenities no one cared about.
Generally, I'm tied to my phone, so I was able to lock in some bookings before the guests could get responses elsewhere. I didn't meet my rent but I managed to cover half.
Great start.
The next 12 months started an ongoing journey of experimentation, trial, and error. Some things worked well (for example, using virtual assistants for better response coverage) and some things flopped (for example, setting up referral networks with other Airbnbs).
I've played with fancy locks, response times, concierge services. I created a web scraper to help make my pricing more dynamic. I've played around with my response text, tried adding doors in my living room, and in a hypomanic fit painted one of my guestroom walls with whiteboard paint.
The result?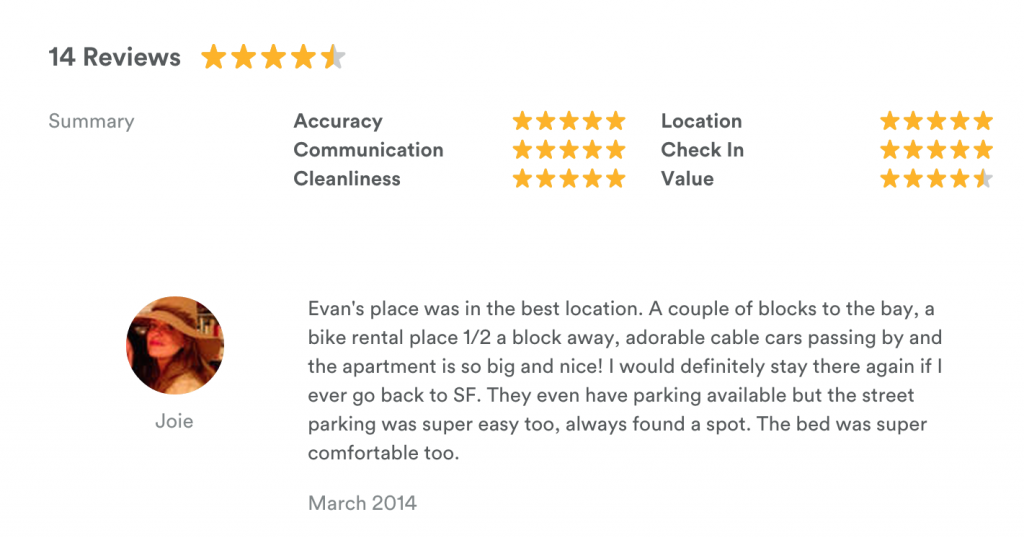 After 2 years, I've had close to 200 guests come in and out of my doors. My income from the first month on rose consistently until I was 2x my rent from just my living room. Success.
Some guests have been great; some have been less great. I've experienced just about every positive thing that can happen and just about every negative thing. Fortunately, I've learned from everything and created a system to manage everything.
From the first year on, my property operated on auto-pilot. If I could go back in time, I could have gotten to this point within 2 months instead of 12. But such is life.
The "rent" burden had been lifted.
The first year I spent unmolested by the idea of rent was a year I've done some of my best work in.
Where I'm at Today
Currently, I'm about 2 years into my Airbnb story. Like the nerd I am, I have probably tested over 100 different variables on my listing and come up with an equal number of techniques for getting the most out of my listing and my guests.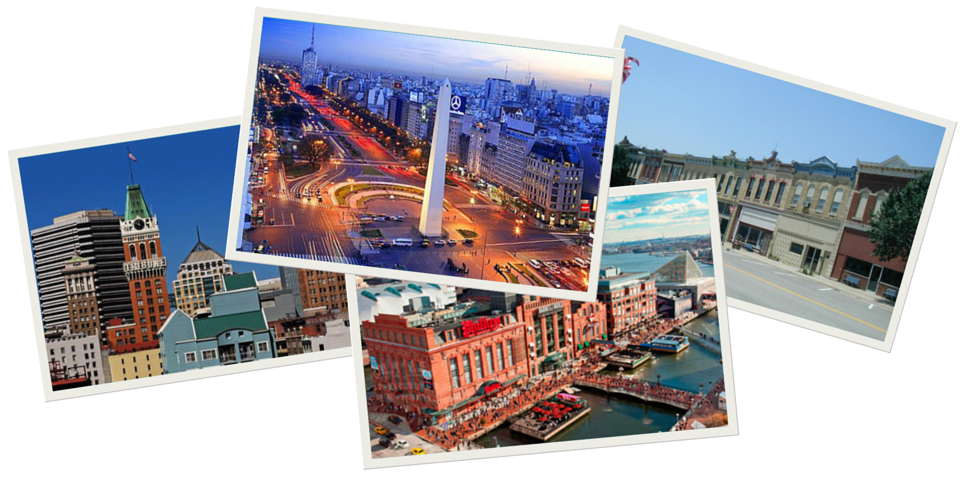 Initially, I thought my luck was limited to San Francisco but have since helped launch 4 other properties that have also blown their profit expectations out of the water. One in Buenos Aires, Baltimore, Oakland, and even a town of 100k people in Kansas.
All 4 properties' rental incomes have exceeded their rent / mortgages and have reached this level within 1-2 months
While the potential revenue in smaller cities / towns isn't as high, the ability to get bookings and still make money on your rent or mortgage is always there. I've now seen profitable and well-run listings pop up all over the US and the world.
AirBnb Hacking Course on Udemy

Just within this year, another friend brought to my attention online courses and specifically the platform Udemy, which has been my main pre-occupation for the last few months.
Just as a fun way of getting into the groove of online course production, I decided to create a course that compiled everything I knew and could teach about AirBnb, including a much more in depth version of this story.
Being a perfectionist, again, I spent entirely TOO much time on my course and as a result have created a 15 hour behemoth of lectures, how-tos, dialectics, and resources.
The reception has been fantastic.
I've received 47 5-star reviews, over 3300 students enrollments, and have been featured multiple times by Udemy. The profit to effort ratio from my course has been abysmal, which is fine, as it's more of something I enjoy doing.
The lack of ROI hasn't deterred two copycat courses from popping up, but I take that as a sign that I'm doing something right.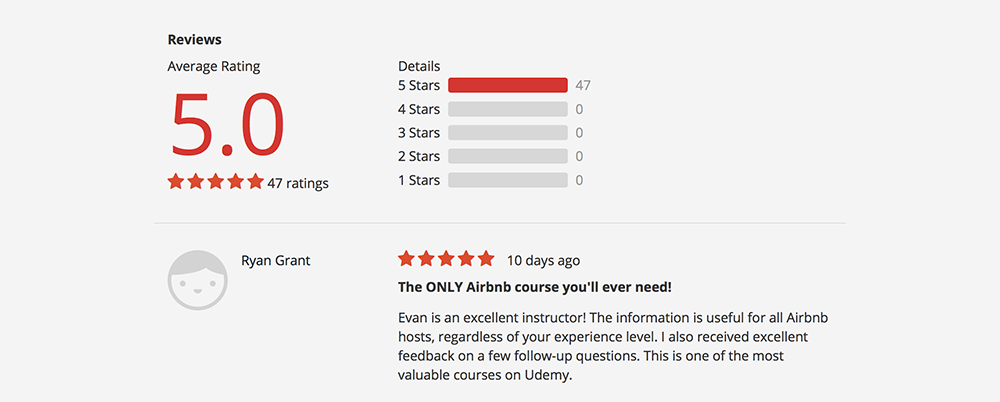 All in all, Airbnb has been a life changer for me. I've been able to visit 7 countries over the last 2 years with all expenses paid.
I've been able to fly back for Christmas, AND Thanksgiving.
I'm no longer forced to take clients that I don't want simply because I need the money. I can take time to work on things that don't make money but that I enjoy, like my course.
---
Interested in creating your own AirBnb story and getting paid to travel? Join my course.
Here's an exclusive 93% discount offer ($299 to $19!) for readers of EscapeYourDeskJob: