Yesterday, I opened up my inbox to see this message:
I feel frozen by indecision, and can't seem to separate the topics I'm interested in from the topics that will be most likely to profitAnthony P.
Do you have this problem?
It's by far our #1 question we get here on EYDJ and I've heard it too many times to count.
Choosing an ebook niche is not easy and depends on a few things…
In this post, I'm going to go into detail about how we choose a topic and more importantly, WHY.
Feeling lazy?
Skip to the end
to find out how you can outsource all the research needed to find a winning book topic.
Step 1: What's your goal
The first question you need to ask yourself is what is your goal with launching books on Kindle.
Is it ONLY money?
Is it LESS money + branding?
And it makes a huge difference.
If you are just doing it to make some side money, then you are free to select any profitable ebook niche.
Knitting for Teenage Boys anyone?
However, if you are looking to build a brand and use the books as a jump off point for a bigger online business, then your options are more limited.
Do you want to start a cross-fit business?
Then your books BETTER BE about cross-fit. A topic which is hyper competitive with 469 books and 28 books published in the last 30 days alone!
Personally, I don't believe you should just write books on just any topic.
This is because the money you can make from books is TRIVIAL compared to the money from building and monetizing an audience on your topic.
Later this month I'll show you how to funnel this audience to a mailing list, Facebook page and build a brand you can monetize.
Step 2: Selecting your niche
Ok, so now let's go about choosing a niche.
For non-fiction books, it is best to focus on the health, self-help and business markets.
Not only is the advice more subjective and less technical (meaning its easier to outsource) but there are a ton of popular niches to choose from.
Think of books like "Raw Juices for People with IBS".
Moreover, people really struggle with these problems and often buy more than one book on the topic looking for answers.
If books on your topic exist on Kindle then there likely is a market for yours.
But then you might say "my books won't sell in a competitive market"…
WRONG.
Check out this guy who launched a book on productivity, got 41,000 downloads in his first week and ended up getting to #1 in the ultra competitive "life hack" category.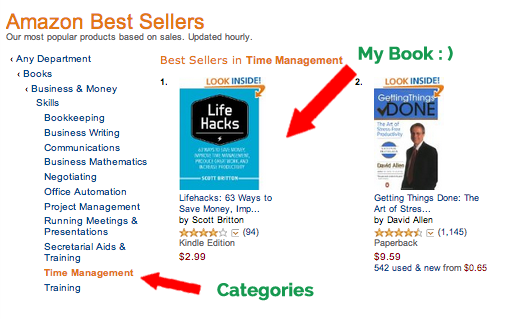 Being visible on Kindle comes down to:
Selecting the right keywords
Selecting the right categories
Getting sales during your free launch
Getting lots of reviews
So for now, don't worry too much about choosing the perfect, untapped market – spoiler alert – they don't exist.
Instead, were going to try and approach the same topics that are out there from UNIQUE angles.
Below, I'm going to show you my thought process for launching a book on Veganism.
Step 3: Going deep (30 mins)
At first glance, there were a TON of books out already out on Veganism. Check out the general search for "vegan" with
7,367 search results and 206 new books
in the last 30 days: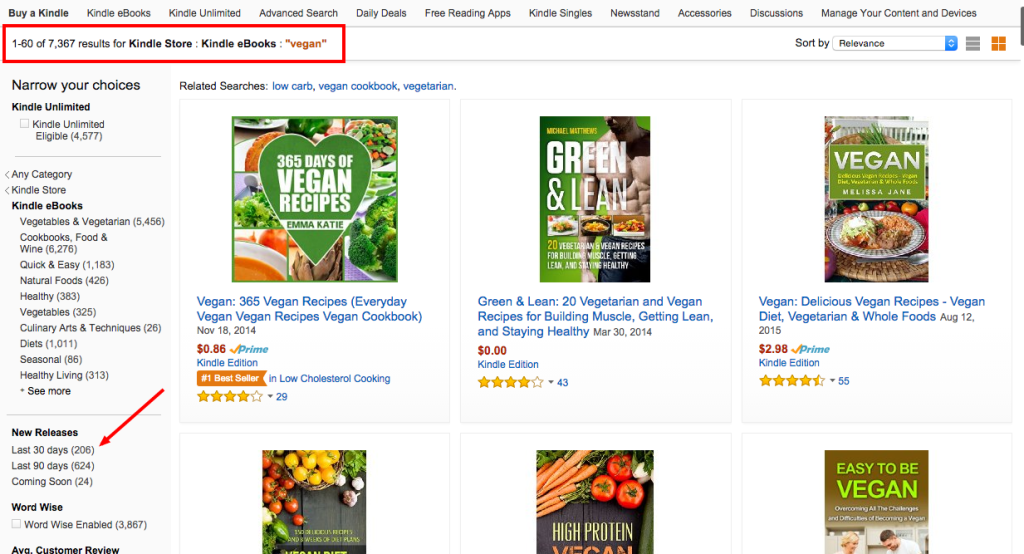 How the fuck am I going to stand out?
I decided I needed to separate my book from the thousands out there and to do that I needed to dig in and see what the other books were missing.
Bad Reviews on Amazon
I started looking at books with 2-3 star reviews to see what they were missing and what people were asking for.

From this, I got a draft of ideas for not only what content to put in the book but also how to position it.
Quora Questions
Next, I headed over to Quora.com and checked the page on Veganism to see what people were asking.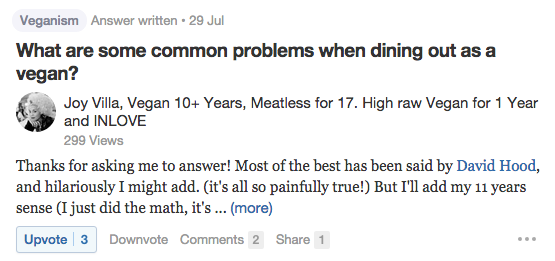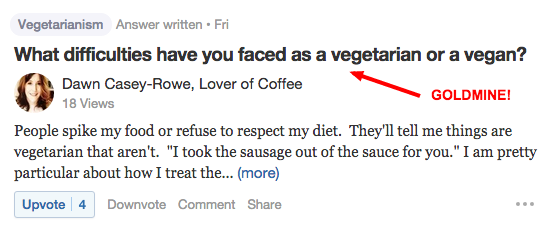 Reddit Boards
Finally, I checked out the Reddit boards to see what people were talking about there.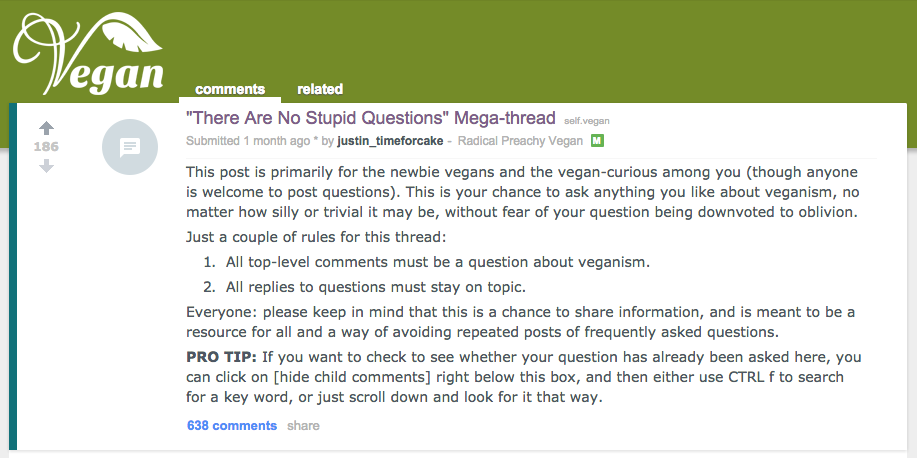 Just this one thread gave me 20-30 questions to answer and all this research taken together gave me a ton of ideas for one book or several books in a series.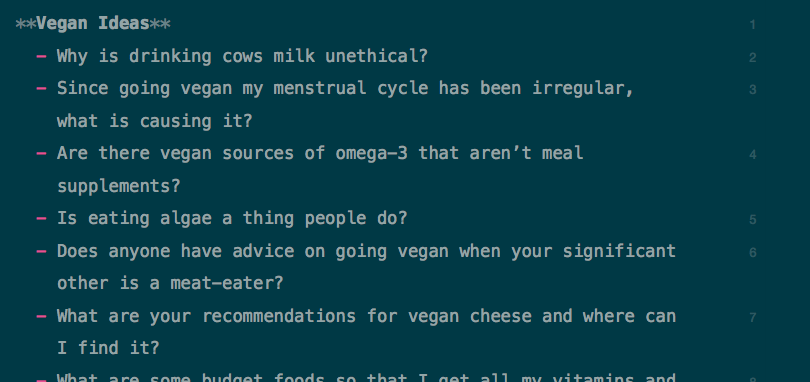 A reoccurring theme from the research was that people were looking for simple meal ideas as a lot of the books overcomplicated things.
Also, I found that the most basic things about veganism – like what to shop for at the grocery store without breaking the bank – had gone unanswered.
Boom! Idea for the my first book.
15 Simple Recipes that can be prepared in 15 minutes and essential facts every Vegan should know.
Step 4: Benefit statements (10 mins)
Before I started drafting my outline, I wanted to write down what the reader will get out of reading my book.
So I put together 10 benefit statements that I would use in my emails, sales pages and any outreach.
Here's a sample of what I came up with: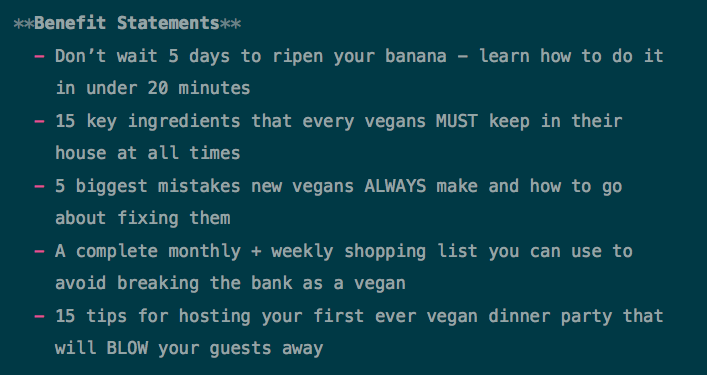 See how I layer on the benefits of reading my book to the reader. This is the same principle that those spammy sales pages use to get people to buy.
One statement can get a persons interest and make them think "I have to buy this!"
I'll use these points in my next step: creating the outline.
Step 5: Draft outline (20 mins)
So finally we get to actually drafting the outline for the book. Here's where I simply take all the benefits statements and make sure they are answered.
Here's what I came up with: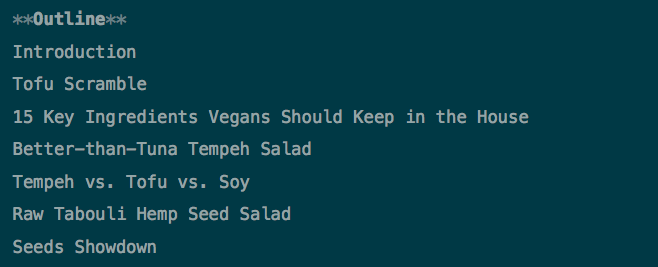 I ended up with 30 headings with an introduction and conclusion but you can adjust that up or down depending on your content.
Outsource the research

Now, let's talk about outsourcing the research process because this does seem like a lot of work and most of you are probably too busy to fit this into your life.
So here is what you do:
Step 1: Download Kindle Autopilot
First off, if you haven't already download the Kindle Autopilot bonus package.
I've updated and added to it.
Step 2: Select a Topic (10 mins)
I recommend choosing a topic that you like and that is within the business, health and self-help broad niches.
Go through section 1 of the Kindle Niche Research Worksheet and brainstorm a list of ideas and then select one.
Don't overthink it. Just pick one.
Step 3: Hire a Researcher
Next, open up the List of Fiverr Web Researchers and select one that you like.
If you want better quality research, then hire someone on Upwork. The work will be better but it will also be more expensive and take more time to find someone.
Step 4: Modify the Job Template (5 mins)
Take the Fiverr Web Research Job Template and modify it to your topic.
Paste this in the messaging field after you have hired one of the researchers.
Step 5: Complete the Outline (20 mins)
Finally, after the research comes back, write out 10 benefit statements and decide on a general direction for your book. Complete the outline and we'll use that when we hire the writer.
Coming Up
Next week, we'll go deep into keyword and category research for your upcoming book. I'll explain how to get ranked not only on Kindle but with Google as well so you can get long-term sales from SEO.
I show you two amazing tools I use to uncover low competition keywords and categories WHILE showing me how profitable each category will be for me.

So get started today and we'll see you on the next post!
Download Kindle Autopilot
Get the new and improved Kindle Autopilot. Every week we'll be adding resources to help you publish your first best-seller.
Click Here!